Looking for some creative gifts for the Traveler in your life?  For someone always on the go, exploring places around the world, it can be difficult to find a useful gift that doesn't take up much space in a backpack or suitcase. From memberships to travel accessories, there are many ways to support your loved ones. Here's a list of 8 perfect gifts for travelers that are sure to be a hit for the holidays or for your own travel aspirations!
This page contains affiliate links. If you choose to make a purchase after clicking a link, I may receive a commission at no additional cost to you.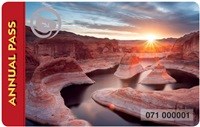 A Reciprocal Membership allows free or discounted entry at locations across the country for Museums, Zoos, Nature Centers, and Aquariums. This is an invaluable gifts for families who love to travel or those who live on the road full-time. There are several museums that offer these passes, but this particular one comes highly recommended.
Journals make great travel keepsakes, and there are plenty of options out there! There are journals for just about everything, including RVing, Hiking, Biking, World Travel, and traveling the 50 states. I've created my own set of journals to track and inspire for adults and children, which include: the Travel 50 States Journal, Travel 50 States Journal for Kids, World Explorer Travel Journal, and the Hiking Logbook & Journal.
I have personally found that organization while traveling is key! Keeping track of passports for myself and the kids can be cumbersome, and I try to avoid fumbling through security. This family passport holder is the perfect solution!
Thanks to a friend who gifted me a packable daypack, I have discovered the love of this idea. These daypacks fold into small, lightweight bags that can fit anywhere in your luggage, and expand into a full backpack when needed. This would be a hit with any avid traveler!
I hope you enjoyed this list of 8 perfect gifts for travelers. Please comment below and share some of your favorite travel related gifts to give or receive!